Views: 4
Last visit: 2020-10-27 14:35:38
Search Word: Faculty of Dentistry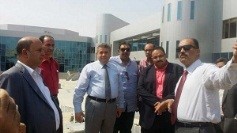 A group of the national investment bank visit Benha university buildings in EL-Obour to inspect the faculty of medicine, the faculty of dentistry and the faculty of physiotherapy. The group expresses his happiness of the progress achieved in the buildings. The group was accompanied by Prof.Dr. El-Sayed EL-Kady, the university president, prof.Dr. Karim Rashwan, the head of the geometrical counseling in the faculty of engineering and prof.Dr. Muhammad Saied, the geometrical chancellor of the university president.
---
Prof.Dr. El-Sayed El-Kady, the university president announces that it is planned to establish four faculties in the university including; the faculty of dentistry and the feasibility studies to set up the new faculty's building is going to be prepared. There are faculty' members that will be hired according to the quality criteria.
---
Prof. Dr. El Sayed Yusuf El Kady, the President of Benha University inaugurated development works at dermatology department in presence of Prof.Dr.Hesham Abu El Enain, Benha University vice president for Postgraduate Studies and Researches, Prof.Dr. Mahmoud Abd El Sabour, the Faculty dean and Dr. Yousry Saeed, the General Manager of the Hospital. The University's President praised the exerted efforts to develop the Hospital and demanded all the staff, physicians and workers to do their best in dealing with people and patients .On the other hand, he promised them to do his best in developing the medical care by building new faculties at different specialties such as; Faculty of Pharmacy, Faculty of Dentistry, Faculty of Physical Therapy and Faculty of Health Services to introduce its services to the Community.
---