Views: 8
Last visit:
The university president meets the Egyptian Scholars in China
Sunday 18 Dec. 2016 - 12:43:56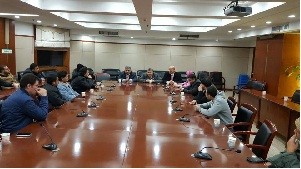 Prof.Dr. El-Sayed El-Kady, the university president meets the Egyptian scholars in China to discuss many issues in the presence of prof.Dr. Muhammad Abu Salim, the dean of veterinary medicine faculty, prof.Dr. Mahmoud Magraby, the dean of the faculty of agriculture, and prof.Dr. Hazem Eliwa, the member of the international relationships office of Benha University in China. At the beginning of the meeting, all scholars salute the university president and accompanying delegation thanking them for this meeting despite the activities which they attend during the course of the day.