Views: 8
Last visit:
«A Big Educational and Scientific Research Project is on the Way» Says the Former Higher Educational
Sunday 10 Nov. 2016 - 12:34:29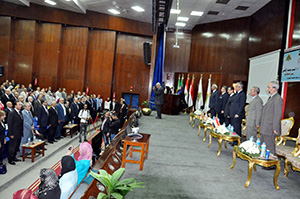 Prof.Dr. Wael el-Degwy, the former higher educational minister stresses that the state is now building a big scientific project which is "Zewail city for scientific research" at the cost of 3.7 billion L.E. This statement concurs with the national big projects forum which was held in the presence of the local development minister, the university president, Qulybia Governor, the staff members and the university students.