Views: 312
Last visit: 2023-01-29 04:12:37
IEEE Robotic and Automation team has participated in the third edition of Minesweepers competition 2014
Thursday 20 Aug. 2014 -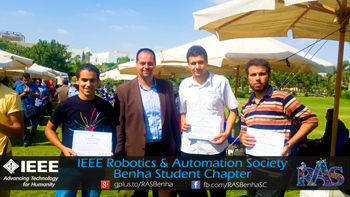 IEEE Robotic and Automation branch in Benha University has participated in the third edition of Minesweepers competition 2014 under supervision of Dr. Ahmad Taher Azar, educational and student activities chair of IEEE RAS Egypt chapter. The founder of Minesweepers competition is Prof. Alaa Khamis, the chair and founder of IEEE RAS Egypt chapter
IEEE RAS Benha Team was able to win with five other teams in Egypt and has been qualified for final round which was held at Misr University for Science and Technology, 6th of October city, Egypt. This Minesweepers competition has been considered to be the first opportunity for the team of Benha University to participate in international competition for the robotics.
Detection and removal of antipersonnel landmines is, at the present time, a serious problem of political, economical, environmental and humanitarian dimensions in Egypt and many countries over the world. Minesweepers: Towards a Landmine-free World is an international outdoor robotic competition on humanitarian demining that aims at motivating researchers and developers to work on innovative solutions for this serious problem.
With financial support from Benha University and supervision of Dr. Ahmad Taher Azar, the team was able to participate by working at the beginning of the summer vacation after the end of second exams by organizing work groups, intensive training and workshops in the College of Computers and Informatics. The group consists of students from Computers and Informatics faculty and Engineering faculty.
Finally, the Benha team was honored from the competition organizers and received certificates of appreciation for their effort and participation. Dr. Ahmed Taher Azar has established IEEE RAS Benha team since January 2014 by organizing training sessions and workshops for students of the faculties of Engineering and Computers and information to participate in local and international competitions annually under support from Benha University and also to compete national and international universities.
Source: - IEEE Robotic and Automation team